Have you heard about Kashmiri tea? have you tried to make it before? Interested to try it now by yourself by following a few simple steps and enjoy the Kashmiri Tea with its amazing pink color and distinctive aroma which would take you into a magical journey to the origins of Kashmiri Tea in South Asia
Kashmiri tea was emerged by the English troops in India, but Kashmiris made their special copy of it, and After the Kashmir conflict, some of them went to Pakistan, so the Kashmiri tea has been one of the most famous drinks there, and served at many events such as weddings and others.
You can learn about its ingredients in the preparation steps within the following lines:
The benefits of Kashmiri tea
1. Manage the pressure and keep a healthy heart.
2. Manage blood sugar level and stimulate metabolism.
3. Burn body fat and work to lose weight.
4. Cancer prevention thanks to its antioxidant compounds.
5. Treating depression and protecting against Alzheimer's and Parkinson's.
6. Delaying signs of aging.
7. Reducing cholesterol levels in the blood.
8. Improving digestive and respiratory functions.
9. Strengthen bones, teeth and protect gums from bacteria.
10. Protection from having cold and flu.
Know more about: Hospitality etiquette at home.
Ingredients of Kashmiri tea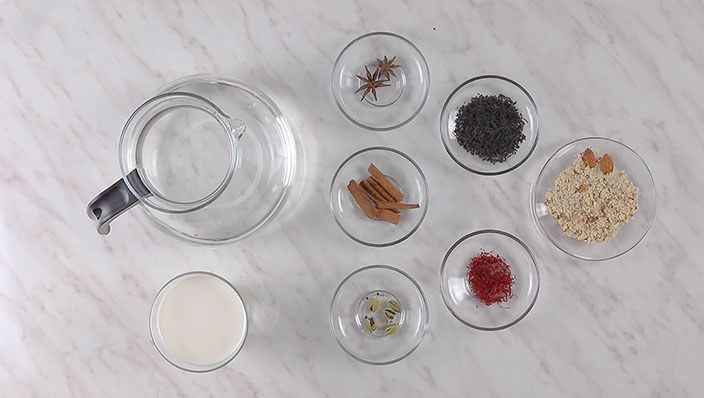 3 cups of water.

A cup of milk.

1 tablespoon of saffron.

5 open cardamom beans.

Chopped cinnamon stick.

3 teaspoons of black tea.

2 anise flowers.

Chopped almonds.
Preparation steps
Put the water into a pot, and add the cinnamon, cardamom, and anise to the water.


Put the pot over the fire up to boiling.



Add the tea and the saffron to the mix with continuous stirring.

Add the milk with continuous stirring.



lower the fire and let the mix boil for 10 minutes.

Filter the ingredients and put the mixture inside a thermos to keep it hot.


Add the chopped almonds to the cup just before serving.
pour the drink into the cup.


You can sweeten it with honey instead of sugar as you prefer.



Now you can enjoy the wonderful pink color of Kashmiri tea and its amazing aroma preferable by people with good taste, don't forget to know about how to make original Karak tea and its benefits, for more amazing ideas about hot drinks which you can serve to your family visit our blog, you can keep it hot in thermoses preserve the temperature for the longest time, but make sure that you use the original thermos to keep your Arabic coffee hot to its last drop.